Ganessh Kumarr Bandi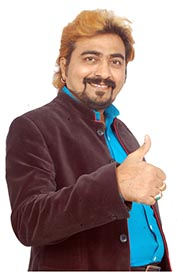 Lifeset
---
Often called Master of the motivators, India's mind coach Ganessh Kumarr Bandi. He is one of the country's leading authorities of Memory and sub conscious reprogramming.
Bandi Ganessh Kumarr is an International Psychologist, Psychotherapist, Memory Trainer, expert in Accelerated Learning Methods, Brain Based Learning and Study Skills. He was appreciated by former Andhra Pradesh CM Late Y.S. Rajasaker Reddy, Tallywood hero Megastar Chiranjeevi and other dignitaries. His knowledge, skill, background and his commitment for training is outstanding.
Ganessh began doing his trainings by age of nineteen, became a professional trainer by 24 years old and he started Training organization at 25. He was coached by British Council Trainer Mrs. Sue Sheen from Sussex, UK. He completed NLP Basic practitioner, Master Practitioner Course and finished his NLP Trainer's Training by Dr William Horton, USA. He was trained as a Mantra Yoga Trainer by Corporate Spiritual modern guru Sri Swamy Sukabodhananda so at the same time he is balancing western skills and eastern Knowledge by Personality development with Spirituality.
Not satisfying with the knowledge, he completed MS Counseling, Psychotherapy and went to London and finished trainings. He is the first A.P's Psychologist and Trainer who was trained in London. He attended many Memory, Brain development and Memory Seminars, Break through Success, Emotional intelligence workshops in London.
He started transforming the lives of many managers, professionals, students, youth, employees, housewives, etc. He worked as a Trainer for Global HRD, BIE international, RK Mark Tec Puna, Sommet Technologies, BHEL, V Tech, Satyam, Wipro, Radio Mirchi Bombay, Siemens, Infosys, NTPC Faridabad, NTPC Simhadri, Agriculture University, Colleges under JNTU, AP, Colleges under Kakatiya University, AICTE, Rajive Vidhya Mission, Police Department (Intelligence Wing) etc.
He is indirectly transforming the lives by giving training in TV shows, discussions, lives, etc.,(HMTV, Gemini TV, Maha TV, Vissa channel, ATV, etc. He presented several papers in national and international seminars. List of former students, like of who is who in the field of software, management, medicine, pharmacy, engineering, agriculture, veterinary, etc. Many of who have undergone is transformational and powerful workshops/training becoming successful personalities nationally and internationally.
His students are successfully settled in US, UK, UAE, Netherlands, Australia, Newzealand, Singapore, Japan, Canada, Germany etc.
"Meet him today and Transform your life now!"