Phobia and Trauma Relief Techniques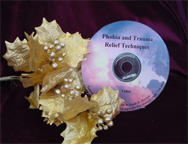 $59.00 Now $29.50!
International Sales - Download Only
In this remarkable DVD you will see three applications of the techniques that made NLP the talk of the psychological world. It was filmed at the National Guild of Hypnotists (NGH) Convention.
Application #1 offers a unique combination of teaching tools. One is the demonstration of removing a common phobia, that of spiders, while at the same time you witness a situation in which the phobia was removed but a "glitch" takes place in the program. Each person in the world is unique due to there own life experiences and often times, a "stock solution" can have unexpected results. It is at these times a therapist must improvise, adjusting his/her approach, while combining various techniques, always working towards the desired behavioral goal.
In Application #2, you will witness the technique "Mending a Broken Heart" which is used to remove strong emotional/traumatic responses. As you will see, an emotional situation (a broken heart) can have the same intense, uncontrollable responses as any phobia or trauma. It is these intense feelings that must be modified through the use of NLP.
In Application #3, NLP is used to change a man's phobic responses to a claustrophobic environment - underwater of being underwater and his desire to scuba dive.